Laminate Countertops
Edge Profiles
Choose from a wide selection of edges from contemporary to modern. Click here to view our options!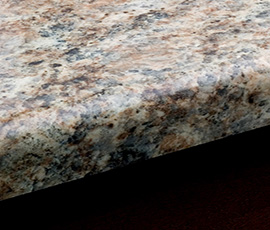 Cultured Marble Countertops
Recessed or Non-recessed Bowl
You can choose a recessed or non-recessed bowl. Add a little surface variation with the recessed option or go with the minimalist look with a non-recessed bowl.
Super Bowl
This extravagant style and generous size have made this a very popular master bathroom selection.
Wave Bowl
Looking for something other than the traditional oval sink? Choose the Wave Bowl and give your vanity a unique look.
Colors
Find the perfect color to match your style. Make any room stand out with the color of your choice.
Undermount Sinks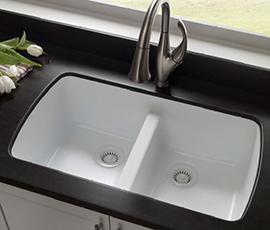 Acrylic
This ultra dense, 100% pure acrylic resin is extremely strong with reinforced fiberglass backing. It is one of the most durable solid surface sinks available on the market.
Benefits

Will not stain or discolor
Will not crack from thermal shock
Will not support bacteria growth
Heat resistant to 365 degrees
Backed by 25 year limited warranty
Resurfaceable and repairable
Stainless Steel
The stainless steel undermount sinks are produced from durable steel and finished with a soft brushed satin finish for an elegant look that will complement any kitchen.
Benefits

Durable steel that resists dents
Withstands extreme temperatures
Will not support bacteria growth
Versatility to match any room
Most affordable option
Quartz
For seamless integration with laminate countertops. The unique rim is specifically molded and machined for simple and quick installation.
Benefits

Extremely scratch/chip resistant
Will not support bacteria growth
Will not fade
Heat resistant over 530 degrees
Uniform color throughout
Multiple color options
Options
Depending on the sink material, you can choose different colors and shapes to suit your needs. From small single bar sinks to large double bowls for your kitchen, you will find something to fit your space.
Shower Doors
Slider
44" to 60" wide
55 3/8" to 70 3/8" tall
3/16" Clear, Obscure, or Rain glass
Several stock sizes to match most tub and shower enclosures
Semi-frameless Swing Door
22" to 72" wide
69", 72", 75", 80", and 90" tall
3/16" Clear, Oscure, or Rain glass. 14 other color and pattern options
Eight finishes and 55 custom powder coat colors
Fourteen clear, colored, and patterned glass selections
Three header styles
Handle shown is an upgrade
Heavy Glass Swing Door
Nearly unlimited widths
Up to 108" tall
3/8" or 1/2" Clear glass. Other options available
Can be configured for any space
Glass Options
Choose between the most popular options of Clear, Obscure, or Rain. There are also other options you can view here.